Submitted by Dakota Schmidt on behalf of Hoops Talk Nation
Follow Dakota on Twitter
______________________
In a trade that caught me off guard a couple days before the 2012 NBA Draft, the Bucks traded the 12th pick, Shaun Livingston, Jon Brockman and Jon Leuer for center Samuel Dalembert and the 14th pick. Now I like this trade because Dalembert is a solid defensive big man and we really needed a center because we never really had one since the Bogut trade but it really makes that question mark bigger on who the Bucks will pick in the draft.
Going deeper into this trade I'm really liking it because we trade three players that were either rotting on the bench (Brockman and Livingston) or were just stuck in a position that was absolutely filled with players. (Jon Leuer and Power Forward). We weren't getting much production out of these three players and getting a guy that can fit a huge need if it's only for one season is a nice move that could only improve the team. Another positive about this trade is that Dalembert has  a 7 million dollar expiring contract that will be an asset for the team during next year's deadline or during the 2013 off season.
Earlier in the month, I was so certain that we'd take a big man like Tyler Zeller or Meyers Leonard that I was on NBAStore.com trying to decide if I was going to get a Zeller or a Leonard Bucks jersey. But now that Dalembert is in Milwaukee that need for a Center is gone for the time being and our need right now is a wing man that can play both SG and SF. Monta Ellis won't be around in Milwaukee for long so we'll need somebody to take his spot and the small forward spot could be in need of improvement with the current platoon of Tobias Harris and Mike Dunleavy.
Currently, the two top guys that are on my radar with the #14 pick includes Terrence Ross from Washington, and Jeremy Lamb from UConn. First off, Terrence Ross is my first option with this new 14th pick because he's an extremely talented player that can play multiple positions and isn't really bad at anything. Ross is listed as a 6'7 SG/SF combo who's extremely active on the boards (6.4 RPG which was the most out of all the SG's in the NCAA last season.) Ross is a great shooter shooting 46 % from inside the line and 37% from behind the arc while making 72 3′s which was more then fellow draft prospects Jeremy Lamb, Austin Rivers and Bradley Beal.)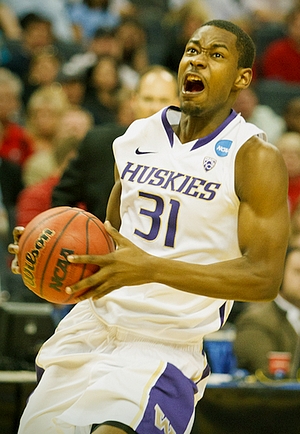 On the defensive end, Ross has great court vision with his ability to go into the passing lanes and disrupt the flow and also steal the ball  (1.3 steals per game which is more then the likes of Kidd-Gilchrist and Austin Rivers). Another thing to love about Ross is that he's a great athlete and leaping ability and that leaping ability helped him nab almost a block per game which lead all SG's and was in the top 10 for SF's in the NCAA.
The only real weaknesses for Ross are his inability to attack the rim and his slight frame (6'7 and 197 pounds) could both be an issue for him as he transitions into the NBA but they both could easily fixed in the offseason before he becomes a pro.
The next potential #14 pick for the Bucks is Jeremy Lamb who's probably one of the best if not the best pure scorer in this years draft. Lamb has the potential to be as good as Kevin Martin and be a dominant scorer and deep ball threat in this league. Lamb knows how to score the ball and has the athleticism to attack the basket and has a great touch around the rim. The biggest thing Lamb has offensively is his amazing shot from behind the line where his range exceeds the NBA three point line. Overall, Lamb is just an extremely long and athletic kid with a solid vertical who will just keep getting better as he gets older.
Defensively Lamb is an asset with his ability to break into passing lanes and steal the ball. Lamb is also able to keep his opponent out of the paint which allowed 70% of his opponents shots to be jumpers. He holds opposing players to only 30.9% shooting thanks to his 7 foot wingspan.  Even though Lamb is a great player he still relies too much of his jumper, he lacks strength,  he's a bit selfish and doesn't really pass that often and can come off as an inconsistent player.
To finish this out, I'm really hoping that the Bucks draft Ross with that pick but you can never really predict what Bucks GM, John Hammond has up his sleeve especially when we're so close to draft day. Hammond always seems to be cooking  something up and this whole piece can become useless by the end of the draft.
I don't what will happen or how things will play out so I'm going to sit back and relax tonight while I turn on ESPN and see which players will be the newest members of the 2012-13 Bucks roster.