Submitted by Dakota Schmidt for Hoops Talk Nation
Follow Dakota on Twitter
______________________
The Bucks and Turkish Power Forward Ersan Ilyasova reportedly came to terms on a contract that would pay 45 million for 5 years with the 5th and the final year apparently will be a  team option according to JournalTimes writer Gery Woelfel. The deal won't be finalized until Wednesday the 11th which is the 1st day where free agents can officially sign but it does appear that Ersan will be wearing a Bucks jersey for the foreseeable future.
Last season Ilyasova had a breakout season averaging 16 points and 10 boards after the all-star break.  Ersan has always been that player that Bucks fans loved because he played with heart and can knock down the open 3 and it reminded Bucks fans of former Bucks draftee and Mavericks star  Dirk Nowitzki.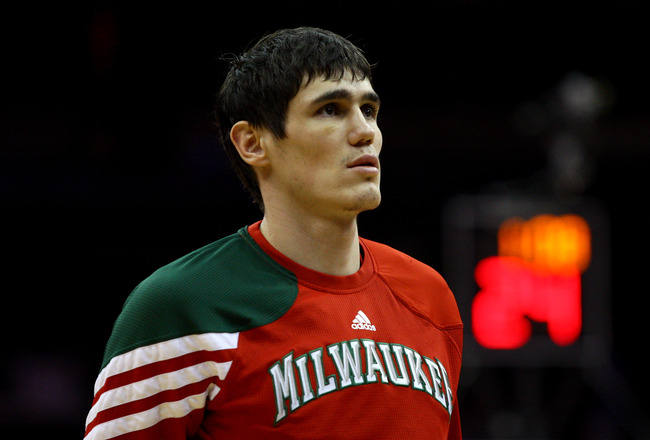 Ilyasova has always been a productive bench player since his return from Europe during the 2009-10 but the season-ending injury by Bogut and the subsequent trade last season really put Ersan on the national scene as he got his starting minutes. I've already talked about how he did after the 2012 All-Star break but the question that sits in the minds of Bucks fans is was he that great because he was fighting for that big contract in his final year of the Bucks contract or because his role with the team increased. To answer the question of he was playing for that contract with the fact that Ersan in my eyes has always had that fighter instinct to try to prove that he's not just another Andrea Bargnani type of Euro player where he can just shoot from long distance and nothing else. Ersan is that total package who can score from the mid-range to outside and can bang inside the paint and grab rebounds.  Ersan has always been that great player the Bucks can depend on for a clutch score or rebound but the big question is that if he's worth the 5 year$45 million deal?
This long term contract for Ersan has had a lot of controversy with the Bucks faithful because it would average out to 9 million per year which is quite a bit for somebody who was a mainstay on the Bucks bench for the better half of his three seasons in Milwaukee. He's never really had a chance to prove himself as a full-time starter at PF and you'd think he'll get his chance this upcoming year even though there's a big elephant in the room known as Drew Gooden. Gooden has 3 years and 20 million left on the contract he signed in the summer of 2010 and right now in my eyes he can not be apart of this team because he really doesn't fit on this team anymore because of the simple fact that we're paying two above average PF's with high paying contracts. The three options the Bucks have with Gooden include the following.
Option #1: Keep him and put him in a smaller role which  would be good because the Bucks are likely in a win-now mode but would be also be bad because it would hinder the development of the younger guys like Udoh, Sanders and Henson.
Option #2: Would be giving Gooden the amnesty which would unload that contract without it affecting the team, while that sounds good because he has a hefty contract, that still wouldn't put the Bucks below the salary cap and would only leave us with the Mid-Level Exception for a potential signing and it would leave at least me with that empty feeling that we could've acquired something in return for me which leads me to my final option.
Option #3: Trading Gooden seems like the most plausible option but the problem is who would trade for  a 30 year old above average power forward who will make close to seven million for the next three seasons. The thing about trading a player with the contract like Gooden is that your either going to get a player back with a similar bad contract or a player of lesser skill and value that will likely rot on the bench until their contract expires. Right now the Bucks are in need of a combo wing player on the bench that could play SG/SF, while there are some of those type of players still remaining on the market like Courtney Lee and Gerald Green but giving them the full Mid-Level Exception might put us in this same dilemma in the future.
If I was in Hammond's shoes I'd personally keep Gooden around despite our depth at PF because amnestying him wouldn't really help us salary cap wise and it never really helps your team when you trade for a player of lesser value even if it helps you get rid of a big contract. Gooden is a good productive player when he's in the game and I would like to have him mainly as the backup center to be that offensive big man behind Samuel Dalembert while the young guys work behind Ilyasova at the PF spot.
With that said, the main focus of this offseason has been bringing Ersan back because like I've stated before he's a good scorer and rebounder but his offensive skills can balance things out if Skiles decides to play Mbah a Moute at SF because Ersan,Monta, and Jennings can bring the offensive firepower while Dalembert and Luc Richard can use their defensive skills to their advantage.
If you want to ask if I like this long term deal for Ersan I'm taking the "wait and see" approach to see how he plays with more minutes and a starting position. I don't think this is the apocalypse like other Bucks fans do because I've always been a personal fan of his since his return from Europe. Nine million per year sounds like a lot but the finalized details have yet to be announced and in all honesty you can't really judge a deal of this magnitude until a year or two from now. All Ersan really has to live up this contract is to recapture the spark he brought at the end of last season and make sure that lasts a full season.
Can he do that?? I have no idea but I'll sure be watching and rooting for Ersan to prove the doubters (including myself) wrong and helps Milwaukee into a hopeful new direction.